Projects:
Major projects ended & ongoing:
"Establishment of Effective Rainwater Harvesting System for Safe Drinking Water and Climate Change Adaptation": With the support of Japan International Cooperation Agency (JICA) we made three (03) big rainwater reservoir, each capacity 50,000 liter (Total 1,50,000 liters) for eliminating the safe drinking water crisis in the Morrelganj Upazila Health Complex, Bagerhat, Bangladesh in 2013-14. Since then, patients, attendants, nurses and doctors are drinking the rainwater from those tanks as drinking water!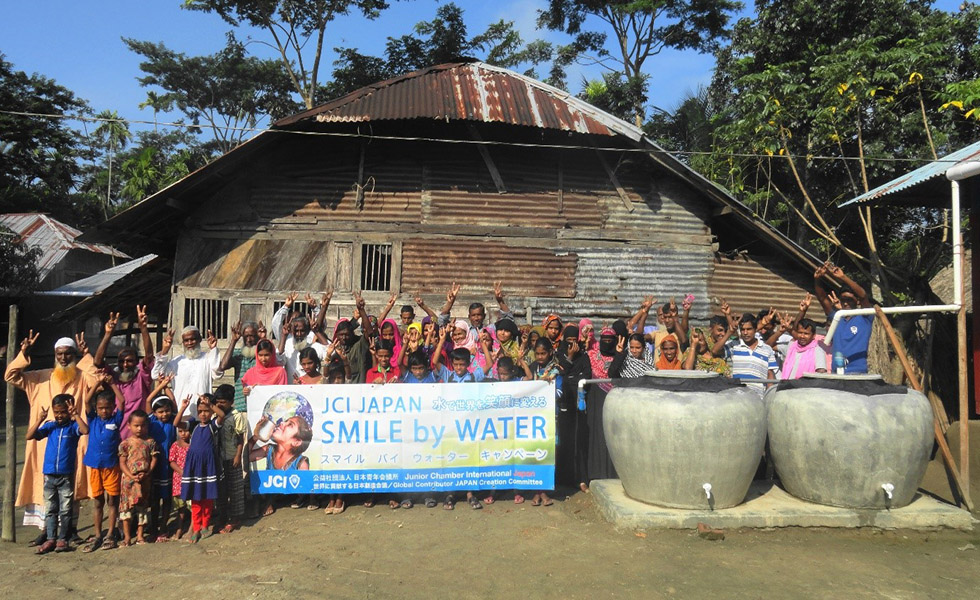 SMILE by WATER: This project was funded by Junior Chamber International (JCI), Japan and supported by Japan Water Forum. We have constructed 200 AMAMIZU and distributed to 100 beneficiaries who were suffering for safe drinking water since long. Proper training on operation and maintenance was provided to the beneficiaries by PR Bangladesh. They had to go long distance for water fetching before they got the AMAMIZU!  Always suffered for water-borne diseases! Now, they are happy because they are relieved from water-fetching, they don't face water-borne diseases now! Getting sweet water at their doorsteps!
40C AQUA Program: Yondoshi Holdings Ltd. is funding this program with the cooperation of Japan Water Forum since 2016. This program is running in Baroikhali Union of Morrelganj Upazila under Bagerhat District for aiming a village turned to AMAMIZU Village (Rainwater Village). Ward no-6 of Baroikhali Union has been chosen to make 100% drinking water coverage by AMAMIZU tank.
We, Skywater Bangladesh (SB) Ltd., not only sell the AMAMIZU we also provide the operation and maintenance training to the customers and beneficiaries to get the maximum benefit from the Rainwater Harvesting System. We check the water quality when necessary, by sending our technical team to the houses of the customers. (See the pictures in the Gallery)  
"Rainwater Harvesting System at the Coastal Areas": With the fund of Rotary Club of Kawranbazar, Dhaka 50 families are benefited with this project. We are giving the technical support to People for Rainwater (PR) Bangladesh for implementing the project. Project started on 2018 and still running.
"Japan-Bangladesh (JB) Joint venture for RWHS distribution in the coastal areas of Bangladesh": Installed 32 nos. AMAMIZU to 32 Beneficiaries with proper operation & maintenance training by People for Rainwater (PR) Bangladesh at Morellganj Upazila, Bagerhat. AMAMIZU reservoirs were made by Skywater Bangladesh (SB) Ltd. Rotary Club of Kawranbazar, Dhaka jointly implemented this project with Kofu East Rotary Club, Japan.
"Rainwater Harvesting under City Governance Project (CGP)": We have constructed seven (07) Rainwater Harvesting Systems at seven (07) School-cum-Cyclone Shelters at Chittagong City on 2018-19. Tanks are within 50,000-60,000 liters each. Due to the pandemic situation construction work of one more Tank could not start earlier which will be started soon. We have given the operation and maintenance training to teachers at the schools and members of the school committee.
Upcoming Project:
"Rainwater Harvesting in the Cyclone Shelters at Teknaf": Under this project, four (04) Rainwater Harvesting System will be constructed at two (02) School-cum-Cyclone Shelters at Whykong and Marishbunia in Teknaf under Cox's Bazar district of Bangladesh. Each Reservoir will be approximately 50,000 liters. It will be funded by Japan International Cooperation Agency (JICA) and GoB. Consultant of this project is IC Net, Japan. We are going to implement this project soon!